Update (October 30th):
Because of the increasing number of Covid-19 infections and the arrival of cold weather in SK and Regina,

we ask you to arrive before the scheduled starting time for Mass

– the doors will be closed when Mass begins so that everyone is seated social distanced before Mass.
You will also be requested to sign in upon entering to allow for contact tracking if needed but there is no need to pre-register since we do not anticipate reaching the recommended capacity.
Mass schedule:
Saturdays, 5:10 PM
Sundays, 10 AM
Monday to Friday 12:05 PM
Though there is a limit at this time on the number of people who can attend (30% of capacity assuring safe distancing), we do not expect to reach or go over the limit. So, there is no need to register before attending the Mass. Also, because cleaning and disinfecting must be done before each Mass, we will open the doors of the Church only 30 minutes before Mass.
Face Masks are recommended to be worn as much as possible, and are required to be worn when approaching the priest or Eucharistic minister for communion, while joining in any singing, when moving around the church, or in any situation where social distancing is not possible.
Church Visitation: You may visit the Church for prayer each weekday after Mass until 3 PM.
Sacrament of Reconciliation: Confessions will be available before Mass On:
Saturdays, 4:30-4:50 PM

Monday through Friday, 11:30 to 11:50 AM.
Exposition of the Blessed Sacrament takes place after the midday Mass, Wednesday to Friday, until 1:30 PM.
For Attending Mass during the Pandemic:
You MUST wear a face mask when moving around in the church and approaching others. A face mask is required for receiving communion directly from the priest or Eucharistic minister.

Please sit in the areas indicated and

keep a safe distance from others

– two metres apart (at least a pew between). Those of one household may sit together.

Please progress to communion wearing a mask and keep a safe distance (red markers on floor indicate safe distance).

Approach the priest distributing communion

wearing a mask

after the previous person has left. Hold out your hand to receive communion, step aside 2 meters, and consume the host which has been given to you (you may need to lift your mask).
There are additional details provided in this document – download here.
Archbishop Bolen Weekly Message
October 30th, 2020:
Our Parish Mission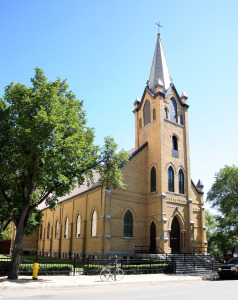 We, the faith community of Blessed Sacrament Parish, seek to help those whom God has placed in our lives to experience the presence of our Lord Jesus Christ. As Jesus' disciples, with the grace of the Holy Spirit, we strive to become living gospels of life through our daily loving choices to serve God, one another, our parish and our community.