Mass at Blessed Sacrament Parish
5:10 PM, Saturday
10:00 AM, Sunday
12:05 PM, Monday to Friday
Pre-registration for weekend liturgies is required (no pre–registration for daily Mass

)

. Contact the parish office

during office hours

to place your name on the list. or send an email message to the parish.
Daily Mass at 12:05 pm resumes January 4th – no pre-registration is required.
Entry into the church is possible only 30 minutes before Mass because of disinfecting procedures.
During Lent
Stations of the Cross, Fridays

after

the midday Mass
Taizé Prayer around the Cross, Thursdays, 7 PM
Sacrament of Reconciliation
11:30-11:55 AM, Monday to Friday
4:30-4:55 PM, Saturday
(no confessions scheduled on Sundays)
Important Notice
Persons attending liturgies at Blessed Sacrament Church are limited to 30 persons (in addition to liturgical ministers and musicians) and everyone is required to wear face masks from the time they enter our church until they have exited the church.
Archbishop Bolen's Lenten Message Week 2
Lent 2021: Week 2
Our Parish Mission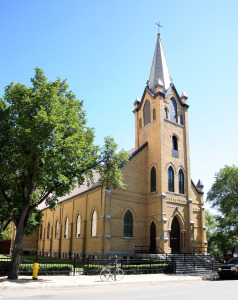 We, the faith community of Blessed Sacrament Parish, seek to help those whom God has placed in our lives to experience the presence of our Lord Jesus Christ. As Jesus' disciples, with the grace of the Holy Spirit, we strive to become living gospels of life through our daily loving choices to serve God, one another, our parish and our community.