Regular Noon Mass from Monday-Friday has resumed. No weekday Mass on Statutory Holidays.
Rite of Christian Initiation of Adults (RCIA)
The RCIA or "Rite of Christian Initiation of Adults" is "A Journey of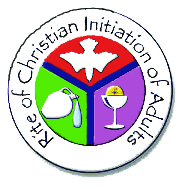 Faith" and "A Process of Conversion." The essence of Christianity is the experience of grace, the experience of the Presence of God in Our Midst, the experience of God's love, God's forgiveness, God's caring manifested or made "touchable" in our service to one another. This Journey of Faith includes not only periods for making inquiry and for maturing, but also the steps marking the catechumens' progress, as you pass, so to speak through another doorway or take the next step to enter into full communion with the Catholic Church. Sessions will begin in October and continue until Easter, with a break for Christmas. We will meeting once per week for roughly and 1.5 hours. If you:
(1) Have never been Baptized and would like to explore the Catholic Faith?
(2) Were Baptized in another Christian tradition and would like to see what the Catholic Church has to offer you?
(3) Were Baptized Catholic but never received the Sacraments of First Holy Communion and/or Confirmation?
(4) Have received the sacraments but were never able to participate in any formal religious education?
(5) Have an interest in supporting the participants as a sponsor?
Taking part in this process carries no obligation to join the Church, receive the sacraments or make any other commitment. Those decisions are highly personal and made only after careful study, reflection and prayer. We require at least three RCIA candidates to register, before the parish will offer this program. If you would like to register please contact Fr. Barry by e-mail at fr.barry@sasktel.net We look forward to meeting with you.
Our Parish Mission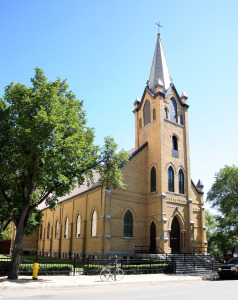 We, the faith community of Blessed Sacrament Parish, seek to help those whom God has placed in our lives to experience the presence of our Lord Jesus Christ. As Jesus' disciples, with the grace of the Holy Spirit, we strive to become living gospels of life through our daily loving choices to serve God, one another, our parish and our community.
REPAIR-RESTORATION-RENOVATION PROJECTS NEEDING YOUR DONATIONS
Projects Approved by Archbishop Bolen
Attic Fans in Church Gables – Completed & Working
Repair Damaged Roof/Ceiling Joist – Completed
Remove/Cap Church 1950's Storm Sewer – Completed
Repair Structural Damage to Bell Tower – In Progress
Stabilize Southwest & Northwest Church Walls – In Progress
Parish Facility Roof Replacement – In Progress
Repair Rectory Entrance Roof
Install New Structural Skeleton for Tower Bells
Reinstall Church Tower Bells
Reinstall Children's Room Stained Glass Window
Projects Remaining
Church Grounds Repair/Landscaping
Church Basement Entrance Renovations
Basement- Hall Mechanical/Electrical Design
Basement-Hall Plumbing, Electrical & Mechanical
Church Basement Floor Replacement
Church Attic Insulation Replacement
Church Interior Ceiling Repair & Painting
Church Basement Hall & Washrooms
Church Basement Small-Commercial Kitchen
The South Saskatchewan Community Foundation Helps
Almost two years ago, Blessed Sacrament Church began a very necessary, but very complicated, restoration project. Required repairs and renovations were more extensive than first anticipated, although it is a blessing that structural deficiencies were discovered while repair was still possible! The expenses, however, were likewise greater than anticipated. We needed help and turned to the South Saskatchewan Community Foundation (SSCF).
The South Saskatchewan Community Foundation graciously offered Blessed Sacrament a large matching grant, which has made it possible for our project to continue. This vital gift was provided through the Anonymous Donor Fund of the SSCF.
The donors to the Anonymous Donor Fund recognize Blessed Sacrament Parish as an important inner city faith community serving the spiritual and social needs of its increasing new Canadian congregation. They are also aware of its role in providing daily Mass to down town workers, to those visiting our city, and staying in down town hotels. The donors acknowledge the church's significant historical importance and are anxious to preserve it as heritage property.
It is difficult to convey adequately our gratitude to the South Saskatchewan Community Foundation and to the Anonymous Donor Fund in particular for this large and generous gift. The work of repairing, restoring, and renovating Blessed Sacrament Parish would simply not have been possible without their financial help.
The South Saskatchewan Community Foundation is a public foundation serving the people of South Saskatchewan. The foundation builds permanently endowed charitable funds for the changing needs and opportunities of the community and provides grants to eligible charitable organizations in culture, health, education, environment, recreation, and social services sectors.
Should you be interested in further information about the South Saskatchewan Community Foundation and their important philanthropic and community work, you are encouraged to visit their website at www.sscf.ca