Update – December 4th
Because of new SHA health guidelines, all persons attending Masses (including other events or meetings) at Blessed Sacrament Church are limited to 30 persons (in addition to liturgical ministers and musicians) and everyone is required to wear face masks from the time they enter our church until they have exited the church.
Pre-registration for Masses on Saturday and Sunday is required. Contact the parish office

during office hours

to place your name on the list.
Pre-registration for weekday Masses is NOT required at this time but we cannot allow entry after we have reached the 30 person limit.
For communion, the people should leave their mask on when they come forward, receive communion in the hand step to the side, slip the mask up, consume the host, replace the mask and continue back to the pew.
Because of the increasing number of Covid-19 infections and the arrival of cold weather in SK and Regina, we ask that you arrive before the scheduled starting time for Mass – so that everyone is seated and properly social-distanced before Mass.
You will also be requested to sign in upon entering to allow for contact tracking if needed.
Mass schedule:
Saturdays, 5:10 PM
Sundays, 10 AM
Monday to Friday 12:05 PM
Church Visitation: You may visit the Church for prayer each weekday after Mass until 2 PM.
Sacrament of Reconciliation: Confessions will be available at these times:
Saturdays, 4:30-4:50 PM

Monday through Friday, 11:30 to 11:50 AM.

Communal Penance Service, December 22nd at 5:10 PM (pre-registration is required).
Exposition of the Blessed Sacrament takes place after the midday Mass, Wednesday to Friday, for a half hour.
Archbishop Bolen Message
December 4, 2020, for the first week of Advent
Our Parish Mission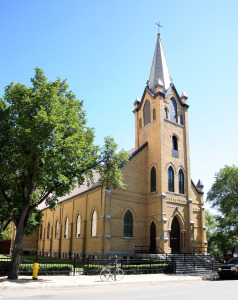 We, the faith community of Blessed Sacrament Parish, seek to help those whom God has placed in our lives to experience the presence of our Lord Jesus Christ. As Jesus' disciples, with the grace of the Holy Spirit, we strive to become living gospels of life through our daily loving choices to serve God, one another, our parish and our community.