Eucharist at Blessed Sacrament Parish
Sundays, 10:00 AM
Saturdays, 5:10 PM
Weekdays, Monday to Friday, 12:05 PM
No pre-registration is necessary for any Mass but face masks and social distancing are required at all times.
Sacrament of Reconciliation
Monday to Friday, 11:30-11:55 AM
Saturdays, 4:30 to 4:55 PM
Parish Prayer Intention
For the children whose bodies are buried at any Residential School:
that they and their families find consolation within the broken heart of Jesus Christ, that they may have justice;
that God may have mercy on our Churches for the roles we have played.
Archbishop Bolen's 2021
Reverence for Life Message
Our Parish Mission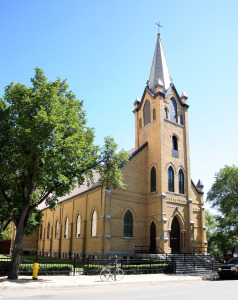 We, the faith community of Blessed Sacrament Parish, seek to help those whom God has placed in our lives to experience the presence of our Lord Jesus Christ. As Jesus' disciples, with the grace of the Holy Spirit, we strive to become living gospels of life through our daily loving choices to serve God, one another, our parish and our community.