Biography
Reverend Barry Joseph Anwender is the eldest of seven children, raised on a grain and dairy farm near Kendal, 70 km southeast of Regina, Saskatchewan, Canada.  After high school, he pursued a Bachelor of Science (B.Sc.) degree in Electrical Engineering at the University of Manitoba in Winnipeg, Manitoba, Canada.  He then worked as a professional engineer for 15 years in the telecommunications field.  He had, by most standards, "the good life."  There was a nice house, the sports car and a rewarding job with national and international assignments.  However, that all changed after a corporate restructuring and revised management goals which resulted in a values conflict.  This career transition plus other life situations seemed to turn life upside down.  Father Barry says, "I began the process of deep questioning and spiritual exploration."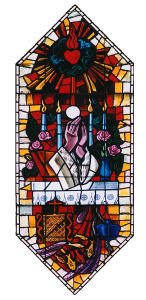 So, in 1991, Father Barry began work on his Master of Divinity degree at St. Joseph's Seminary in Edmonton, Alberta, Canada.  He found those studies very difficult.  "I was an 'A' student and on the Dean's Honour Roll in Engineering.  I'm good with symbols, but find the written word difficult. I learned humility," said Father Barry.  He persevered throughout his formation completing his Master degree and was ordained at Holy Rosary Cathedral in Regina, Saskatchewan, Canada by The Most Reverend Peter J. Mallon, Archbishop of Regina on June 28, 2002.
Father Barry has served in the Archdiocese of Regina, Saskatchewan, Canada as an Associate Priest in the City of Regina parishes of St. Anne and St. Martin from 2002 to 2004; as Pastor in the rural parishes of St. Peter in Lumsden, St. Jerome in Regina Beach, St. Anne in Chamberlain and Our Lady of The Lake Chapel in Saskatchewan Beach from 2004 to 2009; and as Pastor at Little Flower in Regina from 2009 to 2012.
During his time at Little Flower, Father Barry designed, built and maintained Little Flower's parish web site which went into service in 2010. He also filmed and edited all of the web site videos that involved the parish as well as the Year of The Priest videos and the 2011 Diocesan Annual Appeal video.
On October 1, 2012 Father Barry was sent to serve as an Associate Priest in the City of Moose Jaw parish of St. Joseph and the rural parishes of St. John The Evangelist in Marquis and St. Mary's in Central Butte.   Then again on October 1, 2013 the Feast of St. Therese, The Little Flower and The Infant Child Jesus, Father Barry was sent to serve Blessed Sacrament parish in Regina.
Prayer Card
Prayer For Vocations
O God, Who has choosen the Apostles to propagate the faith and to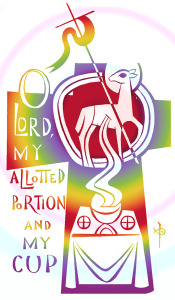 establish the Holy Church throughout the world, we earnestly ask You to bless the Archdiocese of Regina with many Priests, Brothers and Sisters, who will love You with their whole strength and who will gladly spend their entire lives in making Christ known and loved by all people.
Mary Queen of the Clergy-  Pray for us
St. Therese, The Little Flower – Pray for us
For nothing will be impossible with God. (Lk 1:30-37)
Rev. Barry Joseph Anwender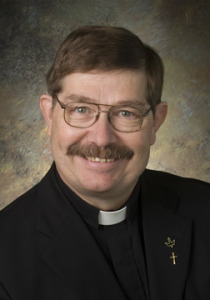 Ordained Priest
by The Most Rev. Peter J. Malon
Archbishop of Regina
June 28, 2002
Vigil of the Solemnity
of Sts. Peter & Paul
Feed My Sheep (Jn 21:4-17)