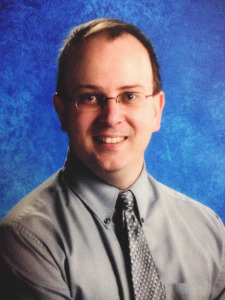 Biography
Gaétan Hammond is a long-time member of the Blessed Sacrament community. Originally from Shaunavon, Saskatchewan, Gaétan moved to Regina in 1994 and began cantoring at Blessed Sacrament almost immediately. He obtained his BFA in Music, specializing in Vocal Performance, from the University of Regina in 1998.
Gaétan then went on to complete his BEd from the University of Regina in 2000, and worked as a Choral Director and Arts Education teacher in a number of schools around Regina. In 2008, Gaétan completed his Diploma in Elementary Education, specializing in Teacher-Librarianship through the University of Alberta, and returned to the University of Regina to complete his MEd in Curriculum and Pedagogy in 2012.
In addition to his duties at the parish, he works as the Teacher-Librarian at Dr. Martin LeBoldus Catholic High School. Gaétan, his wife Anita, and two children, Elliott and Leah, currently live in east Regina.